Hi everyone!
Today is Day 3 of 31 Days of Five Minute Free Writes — a challenge to post five minutes of writing every day in the month of October.
To celebrate this month of flash writing, I'm thrilled to announce that there will be a giveaway EVERY FRIDAY in the month of October!
How exciting is that?!
And I picked Fridays because I love me some ..
The theme of the giveaway month is:
… inspired by the brand new line of Words Matter Letterpress Blocks, brought to you by …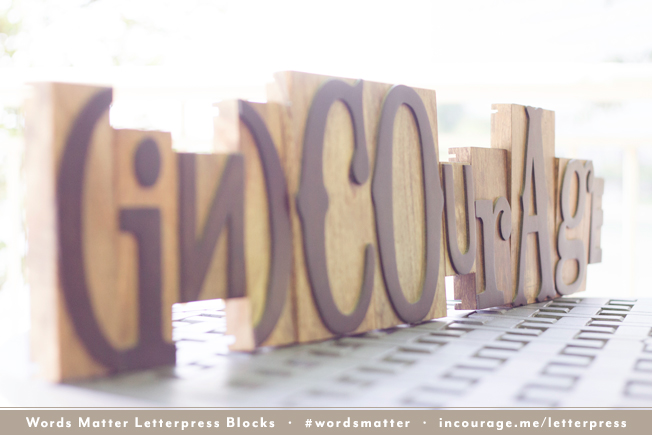 Don't you just love 'em?
There's also this really cool Letterpress Blocks Interface where you can play around with all the letter options and create a sample of your very own word, like I did for this week's Five Minute Friday prompt:

Before we get to the giveaway and the weekly Five Minute Friday link-up, here are my five minutes on the word NEW ..
(Also Day 3 of my series, "31 Days of Life in South Africa")
Ready … GO.
I only knew one family when I landed in Cape Town, and they were a Godsend.  I'd studied with the twin boys at Bible College in the States, and it was into their gracious home that I was welcomed upon my arrival.  They greeted me at the airport with a bag full of South African goodies, complete with a beaded doll with black dreadlocks woven of yarn.
I was so excited by the newness of it all that it felt as though my senses were heightened.  The colors looked brighter, the tastes richer, the smells sweeter.
The dear mother of the family prepared the most amazing meal, complete with ostrich, chutney, sweet butternut, avocado, malva pudding — all things that seemed far more exotic to me than the typical West Michigan fare.
One of the boys, a year younger than me, made it his mission to make me fall in love with his stomping grounds.
It didn't take much.
He was, as they say, Proudly South African.
An avid surfer, he drove me to all of the beaches that could possibly be found.  At Glen Beach, we climbed the boulders that jutted into the sea, me praying that I wouldn't slip and fall with my precarious flip-flops.  We perched ourselves atop a rock warmed by the setting sun, and let our feet dangle toward the soothing crash of the waves.  Lion's Head guarded our backs while the majestic Twelve Apostles looked on from the coast.
And if not for the Atlantic salt on my lips, it would've tasted just like a dream.
STOP.
Now for the fun part!  Enter the giveaway below for your chance to win $75 of Words Matter Letterpress Blocks by (in)courage!
(Please note: This giveaway is only open to those with a U.S. shipping address.)
And don't forget to stop by this cool interface where you can design your own word and share it on social media!
After that, link-up your five minutes of unedited goodness on the word NEW .. Why?  Because #wordsmatter.
a Rafflecopter giveaway

Loading InLinkz ...